LIVE UNITED Award
The LIVE UNITED Award is given to the individual or group that exemplifies the pillars of United Way: Give, Advocate, and Volunteer.
United Way of Greater Baytown Area and Chambers County works to bring the community together, create new possibilities, and equip our neighbors for success, and the LIVE UNITED Award was established to recognize exceptional commitment and dedication toward United Way's mission.  As the pinnacle award presented during our Annual Members' Meeting, the LIVE UNITED recipient is selected for their direct involvement, continued support, and selfless service to the community.  This is a chance each year to celebrate how far we have come and to honor those who helped make it possible.
2022 LIVE UNITED Recipient:
Rusty Senac
Rusty Senac received the 2022 Live United Award from the United Way of Greater Baytown Area and Chambers County at the organization's annual Volunteer Appreciation Lunch Thursday at Lee College.
Senac is fairly new to United Way. He first got involved when he was a Chambers County commissioner and served on the steering committee for the United Way's response to Hurricane Harvey.
Since then, he has joined the United Way board of directors and is a member of the finance committee and campaign cabinet.
"I like to say that we're neighbors helping neighbors, giving them a hand up," Senac said. "That's the way we do it in Texas. It's also part of United Way."
2021 LIVE UNITED Recipient:
Guido Persiani
Guido Persiani has been a supporter of UWGBACC for over 40 years.  As an enthusiastic and regular volunteer, Guido has been a cornerstone of community impact!  He has served on the Board of Directors, on the BACC-DR Task Force as Chairperson, and as Campaign Chair for multiple terms. 
Guido's never-ending passion for United Way is admirable and evident to all who meet him.  We are honored to present the LIVE UNITED award to such an inspirational person!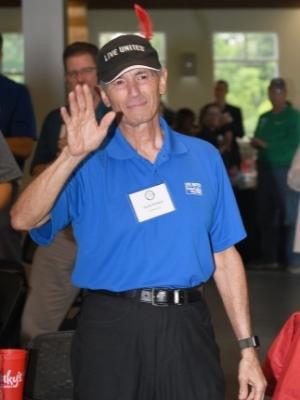 2020 LIVE UNITED Award Recipient:
BACC DR
The Baytown Area & Chambers County Disaster Recovery Program (BACC DR) was created to manage the recovery and rebuilding process following Hurricane Harvey in August 2017.  BACC DR provided guidance to include processes, policies, fundraising, and volunteer management through a time of uncertainty and supported recovery efforts throughout greater Baytown and Chambers County.  When the program ended, 88 homes had been restored and thousands of individuals received assistance through a network of services.  With such great accomplishments, the Baytown Area & Chambers County Disaster Recovery Partnership was given the LIVE UNITED Award to acknowledge the efforts of the Steering Committee, Volunteer leadership, and the Community Support Group.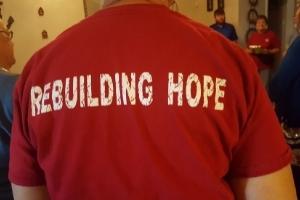 2019 Live United Award Recipient:
Patti O'Neill-Burn
Patti O'Neill-Burn was recognized as having gone above and beyond expectations as an active donor and volunteer.  As a member of the Board of Directors, Patti led UWGBACC as interim CEO, served as vice-chair for Baytown Area and Chambers County Disaster Recovery partnership, secured several grants to fund recovery efforts from Hurricane Harvey, and is an active member of Women United's Steering Committee.  She has made an enormous difference to our community and United Way is excited to recognize her dedication!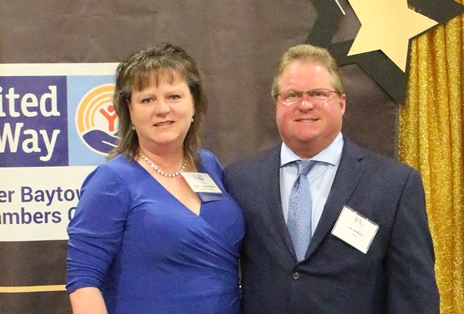 2018 LIVE UNITED Award Recipients:
Nick and Paula Jared
As avid volunteers, Nick and Paula set the example of how to give back to their community.  Throughout their lives, this amazing couple were part of every possible opportunity to volunteer and support local programs.  For their selfless gifts of time, talent, and treasure, Nick and Paula Jared were selected as the first ever recipients of the LIVE UNITED Award.  They set the bar high for all award recipients to follow!