Your Partnership Matters
Small businesses are the heartbeat of a community. Businesses like yours help maintain the economic livelihood of families and individuals while creating the unique culture that makes Baytown and Chambers County home.
By choosing to become a United Way of Greater Baytown Area & Chambers County Small Business | Big Impact partner, you are choosing to invest back into the community and join a network of area leaders. Your investment of $1,000 strengthens the capacity for your United Way to support individuals and local human service nonprofit organizations to uplift our community together.
Direct Benefits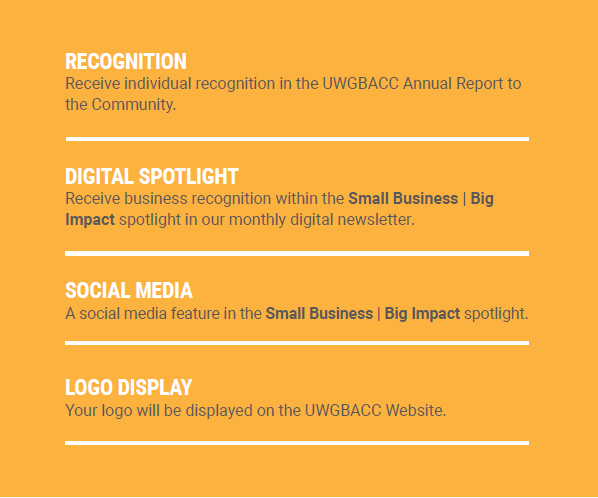 Becoming a Small Business | Big Impact partner not only connects you to the community in a new way but invites you to join a network of local businesses that are like-minded and impact-oriented. When you give to UWGBACC, your organization will be recognized as a partner with UWGBACC and receive these direct benefits.
Impact of your Donation 
To learn about the impact of your dollar in Baytown and Chambers County, please view our 2022-2023 Annual Report. 
Small Business | Big Impact Donation Form